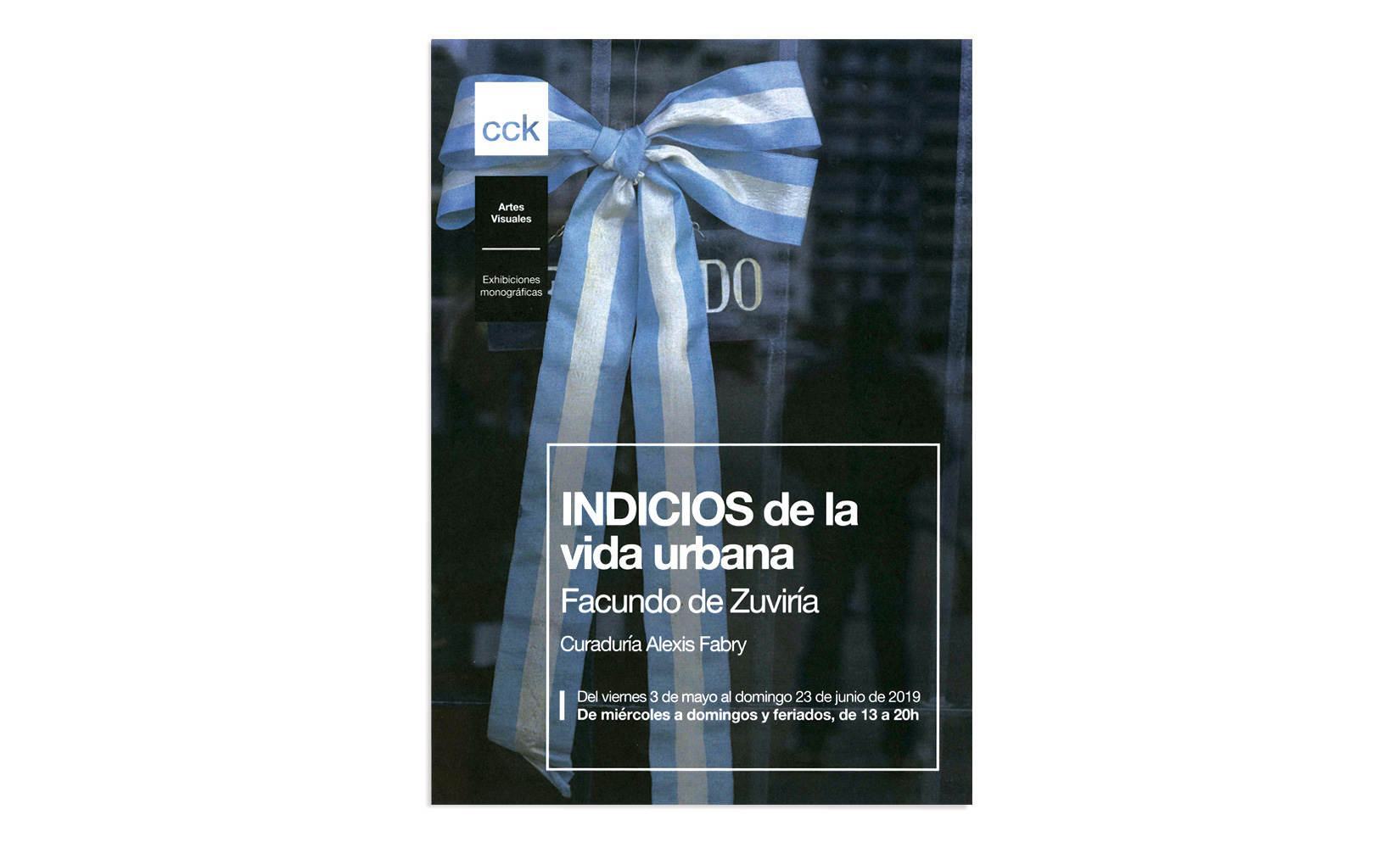 INDICIOS de la vida urbana, Facundo de Zuviría
Curated by Alexis Fabry
Event: INDICIOS de la vida urbana, Facundo de Zuviría
Place: Museo Universitario del Chopo, Mexico
Date: May 3rd – June 23rd 2019
Of his photographic exploration of Buenos Aires ―which he began to undertake in the 1980s―, Facundo de Zuviría has said that it was born of his obsessions. Rather than simply a product of chance, it is the result of a desire to reconstruct a city that now displays itself only in fragile pieces.
From this city in crisis, corroded by inflation, fragmented and inequitable, Zuviría extracts a fascinating narrative. His porteños resemble the characters in some forgotten crime novel: the nude torso of a young man, a knife stuck in his belt, his muscles rippling like the folds of the paper the image is printed on; hats on display in the window of milliner's shop, whose name ―Elvira―, painted on the glass, casts its shadow on the closed curtain behind; the face of Eva Perón against a background of torn posters… Every image is consubstantial with the city itself, yet separated from its surroundings, and often combined with other graphic elements, graffiti, and sundry tokens of popular culture, all intertwined with an "urban melody, at once contemporary and anachronistic": the Ariadne's thread that gathers together these scattered signs of the porteño labyrinth.
Zuviría wanders on foot through a Buenos Aires sown with clues and signs, in a state of utter openness, all his senses on alert. His wanderings and the resulting photographs impose a dreamlike background on the city: something that still exists, but that only speaks in the past tense.
It is all vestiges, all clues. And the history of the city, or its melody, does indeed convey the "melancholy of an anachronism," emitting ―in the words of Alan Pauls in his Factor Borges― "a fleeting, almost posthumous flash, which for a second envelopes the city before disappearing forever."